Walter Sweating Fabric Manikin (Walter Sweating Fabric Mannequin) is a new generation of smart sweating fabric manikin developed by Qinsun and famous professors from The Hong Kong Polytechnic University. It is a Simulation of perspiration in sweating fabric manikin an important tool for objectively and accurately evaluating thermal comfort or pressure.
The improved Walter Sweating Fabric Mannequin has been used to study the influence of walking motion on clothing insulation and evaporation resistance, including improved "walking motion" simulation, design and construction of automatic water supply, and real-time measurement by adjusting the pump inside the human body Evaporate water loss and regulate "skin" temperature. Tests on commercial clothing suits show that the measurement of clothing's thermal insulation and moisture resistance has good repeatability, and the coefficient of variation is generally less than 5%. In addition to heat insulation and moisture resistance, the percentage of moisture accumulation in clothes is a very useful parameter to measure the comfort of clothes.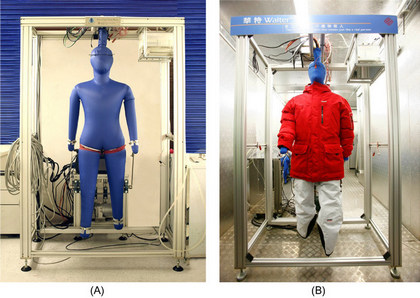 "Walter" consists of the following sub-systems:
1.Water circulation system.
2.System for the simulation of "walking" motion
3.Online water supply system.
4.Control and measurement system.
Articulated joints and embedded components to increase usability
Walter Sweating Fabric Manikin is fully hinged and can be placed on the shoulders, elbows, hips, knees and ankles Provides various postures of movement. it providing complete equipment control, fault detection, data recording and analysis functions.
Adaptation standard:
-Nordic standards (eg INSTA 352-355)
-European standards (e.g. EN-511 2005, EN-13537 2002)
-American standards (such as ASTM-F1291 2005 and ASTM-F1720 1996)
-International standards (e.g. ISO-15831 2003)
Features
1. Purple dolphin model with good thermal conductivity.
2. Dark treatment with the same skin radiation value as humans . Perfect simulation of human skin;
3.The modular manikin structure, easy to dismantle. Achieving the scene assembly measurement in the narrow space.
4. 11 independent control heating sections with high precision.
5. Heat insulation capacity in each independent heating section. Achieve special test requirements of the human body temperature difference. And the temperature difference up to 3 ℃ in the adjacent section. Easy to disassemble and install due to the 6 detachable joints.
6. Head cable drawing-off way is easy for clothing wear off.
7. 11 internal temperature monitoring segments, 11 external temperature monitoring segments, 11 power output segments, 4 ambient temperature monitoring segments, 2 environmental humidity monitoring segments.
8. PID algorithm combined with fuzzy algorithm to ensure good control accuracy.
9. Four kinds of work modes with automatic conversion and data record function: Constant temperature test, variable temperature test, constant power test, variable power test.
10. The analysis software provides the results of thermal resistance and CLO value.
Built-in thermal comfort evaluation model and the EQT evaluation model, which can analyze the thermal comfort feeling of the human body in the closed environment and the non-uniform thermal environment. And the thermal comfort value is quantifiable.
11. Anti-leakage safety protection device with the function of overrun alarm and overheating automatic power off.
Keywords: sweating, perspiration, manikin, thermal comfort, clothing, environmental ergonomics.